Los Angeles International Airport (LAX) – Flight Tracking and Airport Information
Los Angeles International airport, LAX is located in the southwest corner of the city of Los Angeles and is the primary international airport serving Los Angeles, California. Built in 1928, LAX is one of the largest and also one of the busiest international airports in the world. Earlier, only "LA" was used as the designation for Los Angeles Airport. But with the rapid growth in the aviation industry, the designation LA was expanded to three letters and thereby "LA" became "LAX."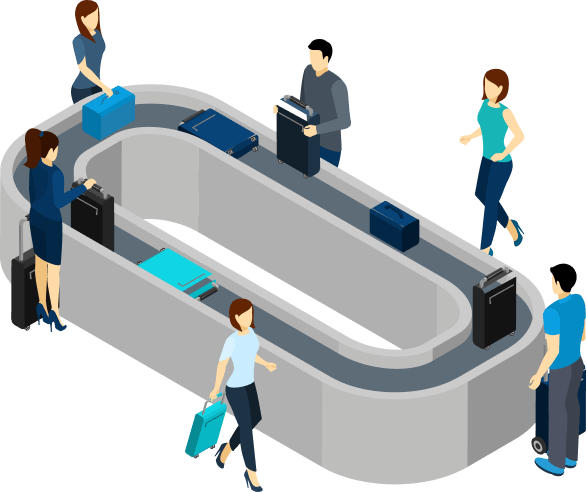 LAX customs & Immigration
The Customs and immigration is located in the Tom Bradley International Terminal for LAX Arrival passengers. Automated kiosks are available at the same terminal for international passengers to scan their own passports and enter their own customs declarations. In addition, these kiosks take the fingerprints and photographs of travelers who aren't the citizens of the United States. Also, you need to show a visa if you are arriving LAX from other countries.

Apart from automated kiosks for LAX customs and immigration process, you can also have Mobile passport experience. You can avail by simply downloading the Mobile Passport application in your smartphone. It is the official mobile application authorized by U.S. Customs and Border Protection (CBP). You need to first clear this CBP area, and then only may connect to the LAX Free Wi-Fi network to browse the Internet.

After downloading the app, you need to follow the certain instructions step by step and have to enter your correct information as it appears on your official passport. And you have to carefully follow the Mobile Passport Control signs to the designated Mobile Passport Control line. Lastly, you need to show your passport to the CBP officer and scan the barcode on the CBP receipt to in LA.
Security screening at LAX
Transport Security Admiration, TSA at LAX Arrivals incorporates the highest levels of transportation security. All the security measures begin long before you arrive at the airport. Passenger screening is a part of TSA's high-security approach to ensure the travelers will reach their respective destinations safely.
Transportation – To and From LAX
A complimentary shuttle service is offered between the terminals at LAX by the Los Angeles County Metropolitan Transportation. These vehicles are highly spacious and incorporate special branding.

The shuttle travels around the airport, moving from terminals 1 to 3, then to Tom Bradley International Terminal, then via terminals 4 to 8, back to 1. The service will take you into downtown L.A. The travelers, wishing to use the service need to look for the blue LAX Shuttle with Airline connections sign on the lower level of each terminal. Being confusing, the shuttle routes are labeled with their own letter and stop at different locations. If you have to connect with other city buses, then Shuttle C will serve the purpose. It will take you to the Los Angeles County Metropolitan Transportation Authority Bus Center, where you can easily connect with city buses.

Apart from the free shuttle service, there are other public transport lines available at LAX, that you need to take at Metro Bus Center in economy parking lot C.
Flyaway & Long Distance Vans
The Flyaway service offers services to travelers between LAX and Irvine, Union Station, Van Nuys, and Westwood. This service picks up the passengers from the lower level of each terminal. However, if you need to travel over to long distances like Simi Valley, Ventura Country, then boarding a long distance van will be the best option. And similarly you can board a long distance van service from the lower level of each terminal on LAX Arrivals.
Taxis
There are a huge list of car services providers or taxis near LAX. Some of the best taxi service providers are Safe Ride Transport, Sun Transfers etc., which offers Door-to-Door pickup, Free Cancellation, Excellent Hospitality Services that you would love too. L.A. Yellow Cab Taxi Company is the official taxi service authorized by the City of Los Angeles to provide service from the airport. All these are available just at a click and that too at affordable rates.

Public transit options

Bus (Metro Bus Center): The free "C" shuttle connects passengers to the airport bus terminal from the LAX Shuttle and Airline signs at each Arrivals Hall.
Light Rail (Aviation Station): To reach the city's light rail line, passengers must board the free "G" shuttle service at the LAX Shuttle and Airline sign in the arrival's hall.
Facilities
Los Angeles airport has a wide variety of Restaurants and Shops at each of its terminals, catering to the needs of all individuals. There is also an option of private dining at some terminals that can be reserved for meetings. In its recent addition, Los Angeles International Airport (LAX) has opened a new restroom in Terminal 1 featuring an adult changing table.

LAX provides a number of different lounges to travelers at different terminals. LAX offers impressive business facilities and services including Cell phone rentals, Fax/Xerox services, Internet services, Wi-Fi, private meeting rooms etc.
Car Rental
If you're at LAX Arrivals, and want to give yourself a great start to your trip, then all you need to do is to choose services of any of the car rentals and head out straight from the airport. And you will be on the roads with cars that range from standard to sports cars. There are a number of different companies offering car rental services at LAX. Some of those Car Rental companies already have their offices at the airport. Also, you can avail the online pre-booking car rental options provided by almost all the car rental companies.
Hotels
There are no hotels within the LAX itself; however, there are a number of hotels close to Airport that are just a shuttle ride away for LAX Arrivals. Most of them are just a five-to fifteen-minute, away from LAX. Don't overpay for the hotel rooms as almost all the LAX hotels are available online. You can check the price list with reviews & feedback and accordingly find a hotel as per your requirements.
Airlines – Which terminals do they reside?
LAX serves both domestic and international airlines. All the important information regarding the airlines like airline contact information for all the airlines and airline terminal location is available at LAX. LAX is open 24 hours. However, Airline check-in counters and federal passenger security screening remain open between 4 a.m. to 5 a.m. and are closed between 11:30 p.m. to 2:30 a.m., Pacific Time, depending upon flight schedules for each terminal.

Terminal Breakdown with Airlines:

Terminal 1: Southwest, Airtan airways, US airways.

Terminal 2: Air France, Air New Zealand, Avianca, KLM, Northwest, TACA, Virgin Atlantic, West Jet, Hawaiian Airlines, Air China etc.

Terminal 3: Copa Airlines, Avianca, Copa Delta, Interjet, and WestJet Airlines

Terminal 4: Qantas, American Airlines, American Eagle.

Terminal Five: Delta Airlines, Northwest and Aerolitoral.

Terminal Six: Frontier Airlines, Horizon, Allegiant Air, Continental Airlines, United, Alaska Airlines and Copa Airlines

Terminal 7: Serves United and United Express.

Terminal 8: Serves Great Lakes Airlines, United Airlines and United Express.

Tom Bradley International Terminal:

Serves China Airlines, China Eastern, Malaysia airlines, Qantas, Singapore airlines, Philippine Airlines, Asiana Airlines, Alaska Airlines, Air Pacific, Emirates, Swiss International Air Lines, Thai Airways etc
LAX – Map
The Map of the airport can be readily seen as you just arrive near the entrance gate. Passengers at the airport can readily check their flight status by the means of LED Display mounted uniformly across the bay. Each separate carrier offers their own facilities and recommendations regarding Baggage Check-In, Security Screening etc. It is always advisable to arrive at LAX Departures nearly 2 hours before your flight departure time. There are different options of Check-In namely, Airport Check-In or Home Check-In. Subsequently, these facilities are available over Mobile Apps hence passengers can enjoy all services with an ease.

The LAX consists of 9 passenger terminals, out of which 5 are for LAX Departures and rest for arrivals. Airport offers multinational cargo services ranging up to 2000 service providers keeping LAX in one of the busiest airports list. Dedicated terminals are aligned for specific set of airlines, such T2 for International Commercial passengers, T1 for Southwest Airlines, etc.
Parking
Whether you are coming to drop someone or picking them up near LAX Departures, you can park your car in Smart Parking section, which is secured, maintained and designed to the next level of excellency. You can then go to Meeting Places which are terminal baggage areas and terminal curbsides. You will be surprised to know that if your arriving friend doesn't know this meeting place, the airlines provider regularly makes announcements on intercom so as to escort your friend.

Long-term parking requires a small amount of convenient fee located near Lot C, between Sepulveda Boulevard and 96th Avenue. Well Short-term is easily approachable while walking near the terminals.